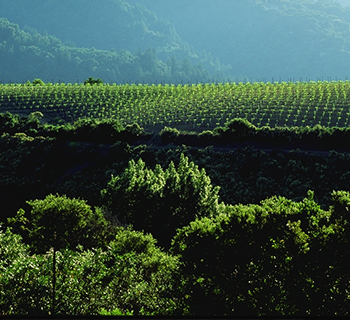 This is a view of Mt. Chardonnay
from our front gate at sunset.
i was raised on mount eden
surrounded by acres of lush
green vineyards, mountains
and, far below me in silicon
valley, apple, ames, and ibm
so i learned the four directions
before i learned to walk or
talk or smile. it's easy –
turn towards the pinots,
turn towards the cabs,
in the east is saratoga, to
the north, palo alto and
the bay – and way back
there, between the santa
cruz mountain ridge line
and the oak trees on
mount chardonnay – the
san andreas fault! well,
it's all really very simple.